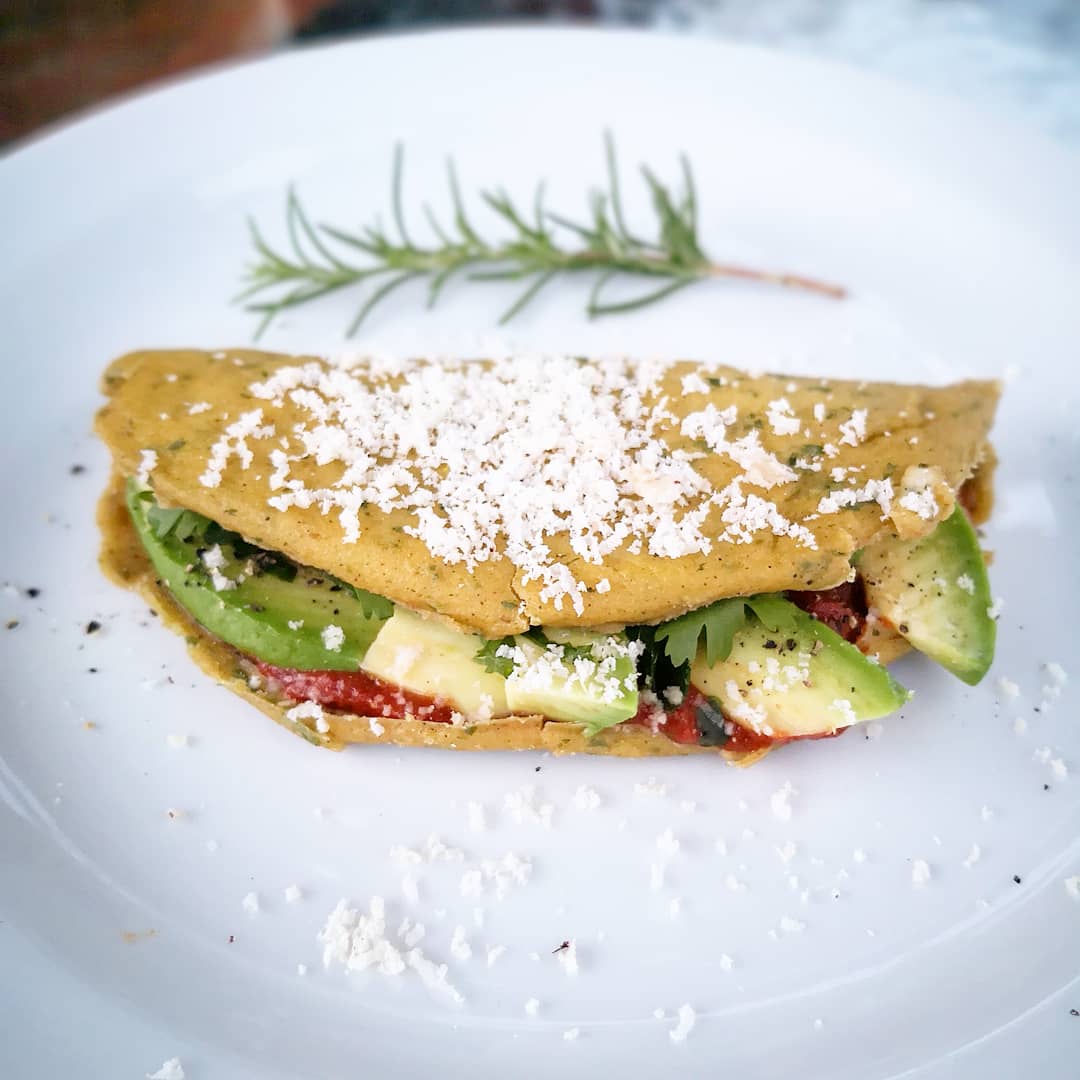 Chickpea Omelette
Prep time: 10 mins.      Dehydration time: 6 hours.       Feeds: 2 people.       Equipment needed: High Speed Blender, Dehydrator.
Who said you can't have omelettes if you eat raw vegan? The omelette isn't just about the eggs. If you eat raw eggs, it has nothing to do with an omelette. The omelette is about it's texture, its taste and its shape. So here we use chickpea, flaxseed and psyllium for its texture, black Himalayan salt for the eggy taste (a must in this recipe), and other flavourings that you will see below that are usually added to omelettes.
Ingredients:
250g soaked chickpeas

20g soaked golden flaxseed

40g hemp seeds or soaked cashew

1 tsp psyllium husk

1 tbsp nutritional yeast

1 tsp black Himalayan salt

1/4 tsp white pepper

pinch of nutmeg

1/2 tbsp lemon juice

1 tsp red grape vinegar

1 date

100g water (add more if needed)
Method:
Blend all ingredients until you get a creamy texture. Optional – add parsley and blend more just to chop it up. Spread on a baking sheet and shape into 4 omelettes like in the photo below. Dehydrate at 42°C (107°F) for 4 hours on one side, flip and dehydrate for another 2-4 hours. Decide how thick/wet or dry you want it. I like mine thin, slightly wet on the inside. I filled mine with tomato, avocado, chopped spring onions and parsley and grated some Brazil nuts for rawmesan.
---
Tips
How to soak chickpeas and make them more digestible: Place them in a bowl, add 1 tsp of sea salt or pink Himalayan salt (this adds minerals) and 1 tsp of bicarbonate of sodium (this reduces phytic acids), and add 3 times the volume of water. Give it a stir and let it soak for 8-12 hours. Drain and rinse and it is ready for use. Do not let the chickpeas sprout, otherwise they get super bitter.
Storing them
You can make a big batch and store the omelettes for 3-4 days in a sealed box in a fridge. Great when you have kids or a busy person who wants to plan meals in advance and just grab and go.
How it looks like before dehydration